Lark Sparrow Nest With Eggs Photographs, Near Skull Valley, Arizona
Photos by Greg Clark, June 12, 1999, Updated May 2013 with individual bird images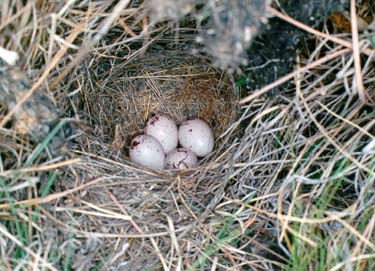 From 1996 to 1999 I searched for a nest for Lark Sparrow. Occasionally, a breeding confirmation can be made by seeing an adult carrying food. But finding the nest is a very frustrating experience. In 1999 during a BBS survey, I was driving the car while Tim did the actual survey work. During a stop,while Tim was counting birds, I saw a Lark Sparrow carrying a bug. The sparrow watched me for about two minutes and then decided to take the bug to the nest. I followed and found the other adult running on the ground a short distance from where the first adult brought the bug. After a short search I finally found the nest on the ground under a very small cholla cactus. Apparently, one adult was bringing food to the other adult sitting on the nest. Lark Sparrows have very pretty eggs compared to other sparrows.
See new nest with eggs and baby birds below.
A view of the cactus with the Lark Sparrow nest at its base. The cactus is only about 25 cm tall.
Here is an adult Lark Sparrow watching me while I am in the area of the nest. Another nest was found in the same approximate location during the same BBS route in 2009 almost 10 years later to the day when the first nest was photographed in 1999. The sparrow is perched on a type of cholla that grows at 5000 feet elevation.
Note the similar features between the two nests on this page. Both have fine grass cup-shaped bottoms with flat grass woven around the outside. Thicker grass stems support the nest structure overall, some of these are green and holding firm with their root structure in place. This nest is at the base of a grass clump rather than a cholla cactus.
There are at least two recently hatched chicks in the nest. The two eggs are probably going to hatch over the following two days. The chicks could raise their heads and open their beaks for food, but this wasn't photographed.
This Lark Sparrow was photographed in May 2013 near Florence, AZ presumably during migration. Lark Sparrows in the winter in low sonoran desert (saguaro) habitat can be observed as individuals or in flocks. This bird was very busy finding food along the roadside vegetation and in the small dry wash between the road and the larger desert expanse. Not a breeding bird in the low desert, this species only has to fly 100 miles or so from Florence to higher elevation grasslands North of Phoenix to be in breeding habitat (such as that shown in previous photographs).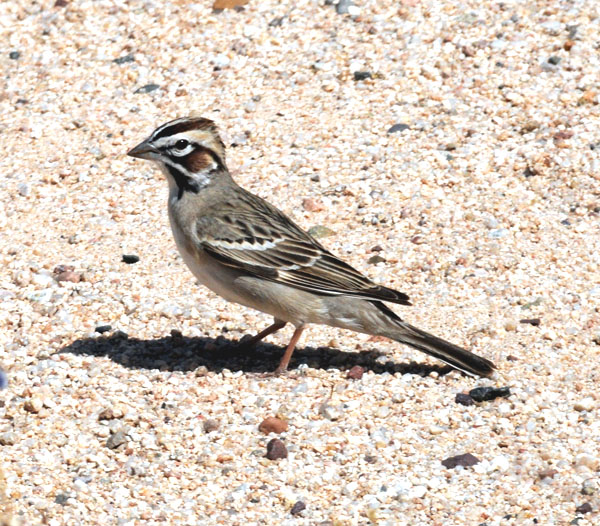 Copyright Greg Clark, 1999
update 5/2013